Uniform
The uniform consists of:
A branded navy, embroidered sweatshirt / cardigan
A branded grey, embroidered polo shirt
Plain grey trousers*, shorts or plain grey knee length skirt**
Blue check summer dresses can be worn during the Summer Term
A branded book bag
Shoes – must be plain black leather style (trainers, canvas-style and ballet pumps are not permitted)
*Trousers and shorts must be smart school-style only. Trousers must not be skin tight below the knee, hipster style or legging style. Material must not be cord, denim, stretch legging style or canvas/jean-style cotton and should not contain cargo pockets or logo labels.
**Skirts must be tailored in style with no fashion detailing such as pockets, patches or zips.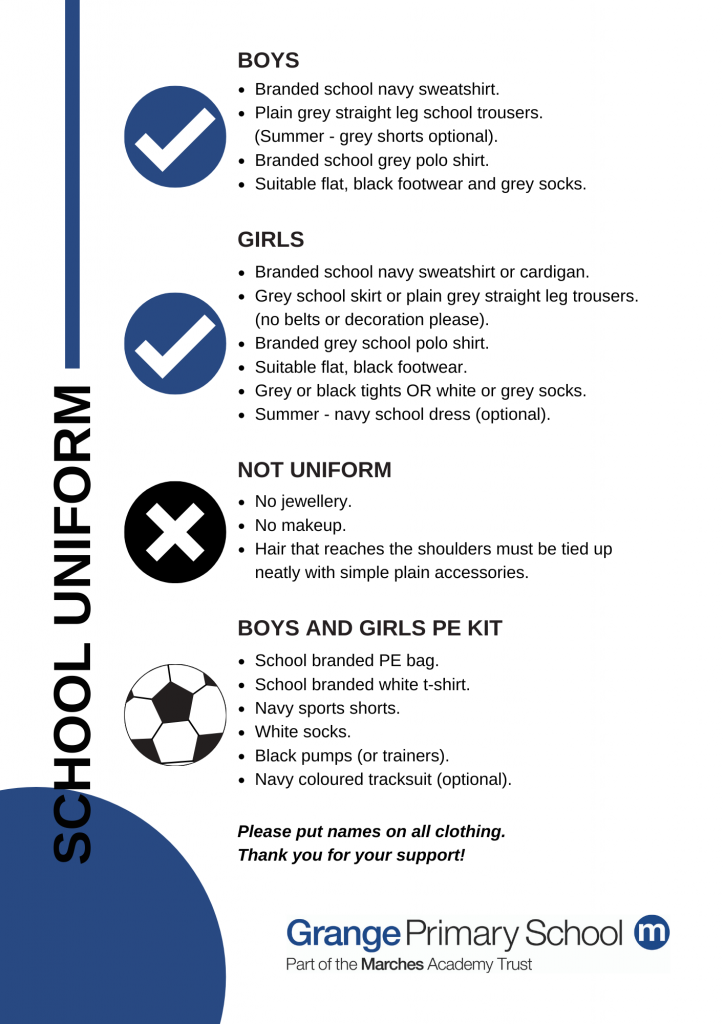 For PE:
A branded, white, PE t-shirt (optional)
Navy PE shorts
Socks (must be black, white or grey and plain in design)
Branded PE bag
If you have any queries regarding your child's uniform or PE kit, please do not hesitate to contact the school office.
A full selection of uniform available to purchase can be found here. Alternatively, you can click on the below images to order.
How do I order:
The following systems are in place to allow you to purchase all uniform items:
• Online (preferred option). Please visit and follow the link to visit our online shop or click on the items above which will direct to the website to order. 
Delivery is charged at £4.95 per package to your preferred address. Delivery to your home provides the safest option to reduce the risk of transmission of COVID-19. We may look to receive deliveries at school once the current restrictions end, thus saving parents the delivery costs.
• Via the RAM Leisure shop in Wrexham. Parents can purchase all items of the uniform and PE kit straight off the shelf in the RAM Leisure store in Wrexham. This purchasing option may be particularly helpful in circumstances where items need to be tried on to determine correct sizing.
RAM Leisure, Trinity House, Whitegate Industrial Estate, Wrexham, LL13 8UG.
• Via one of our 'pop up' shops which we will be hosting throughout the year. Orders placed at these events will receive free delivery to school. Further information will be shared directly with parents/carers.