Before and After School Clubs

Did you know that we provide some fantastic wraparound care?
Daily Breakfast Club
Available everyday Monday to Friday, 7:45am until 9:00am. £2.00 (this includes breakfast if required) or £1 for those in receipt of free school meals.
We have a range of cereals or toast with apple juice, orange juice, water or milk.
We offer a range of play equipment and activities for the pupils to take part in prior to starting their day of learning.
Take a look at the poster below for full details. We look forward to your child joining us!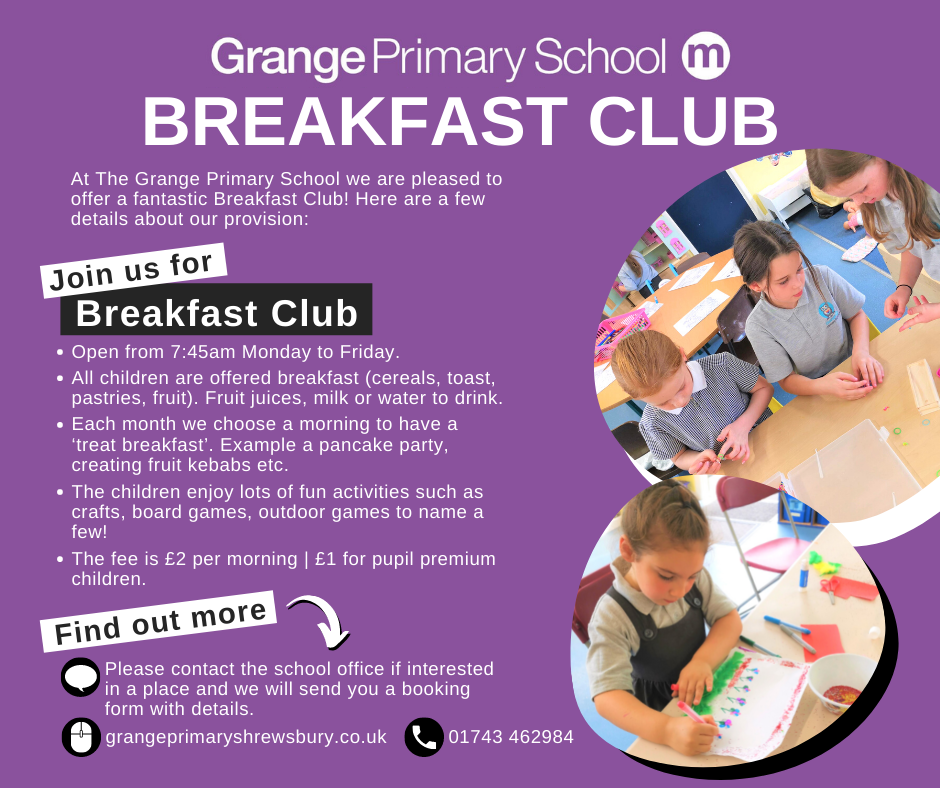 ---
After School Club
Based in the nest (demountable building), your child will be collected from the classroom at the end of the school day. Two sessions are available to book:
A snack will be provided for children attending up until 4.30pm – £4.50 per day.
A snack and light meal will be provided for those attending up until 6pm – £6.00 per day.
Children will be able to take part in a variety of fun activities such as baking, craft, games, outdoor sports plus much more.
---
Have a question?
If you would like any more information about either of our before or after school clubs please do contact Reception via 01743 462984 or admin@gra.mmat.co.uk
---
Connect with us:
Don't forget to follow @GrangePrimarySchoolShrewsbury on Facebook for behind-the-scenes insights. Your support means the world to us! Make sure to like, comment and share!

Before and After School Clubs