Nursery – Tadpole Class
Welcome to Nursery Class!
A very warm welcome to Tadpole Class, our teachers are Mrs Heilbronn and Mrs Dance.
At Grange Primary School we greatly value the importance of the Early Years Foundation Stage (EYFS) in providing a secure foundation for future learning and development and to ensure that each child has a happy and positive start to their school life. It is our aim to:
Give each child a happy and positive start to their school life, in which they can establish a solid foundation for a love of learning.
Enable each child to develop socially, physically, intellectually and emotionally.
Encourage children to develop independence within a secure and friendly atmosphere.
Support children in building relationships through the development of social skills such as cooperation and sharing.
Work alongside parents to meet each child's individual needs to ensure they reach their full potential.
Parents Guide to Nursery:
Our Classrooms and Environment: Our photobook
Meet the team: EYFS staff
The 2021/2022 curriculum: This document is currently being updated – please check back soon.
Read Write Inc: Click here to visit their website.
The development statements and early learning goals can be found here: Development matters in EYFS
We can't wait to meet you, if you have any questions, please contact the school office on 01743 462984.
---
Our Nursery Class, previously named Saplings, has now changed to Tadpole Class. This page is currently being updated to reflect this and the new academic year – please check back soon!
---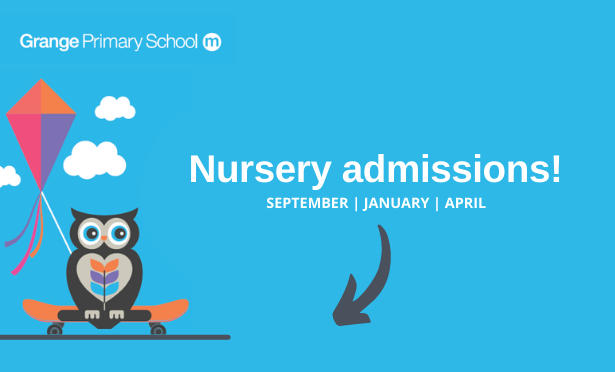 Thinking about joining our fantastic Nursery at The Grange Primary School?
When your child turns 3, they are able to start our Nursery at the beginning of the next term. Our intakes are in September, January and April.
Whatever their current age, if you are planning on sending your child to our Nursery in the near of far future, please complete the online form linked here – Nursery Starter Form. You will then go on our waiting list and be contacted when we begin to complete transition information.
Please do get in touch with school if you have any questions at all. Mrs Heilbronn is always available to speak to at the Nursery gate at the start and end of the school day if you have any queries.